Sunflower Oil with Vitamin A
Available in:
NUTRITIONAL VALUES
Nutritional Declaration

Per 100ml

Energy

3389kj 824kcal

Fat

92g

Of which
Saturates

10g

Carbohydrates

0g

of which sugars

0g

Proteins

0g

Salt

0g

 Vitamin A
 1,5 – 3,0mg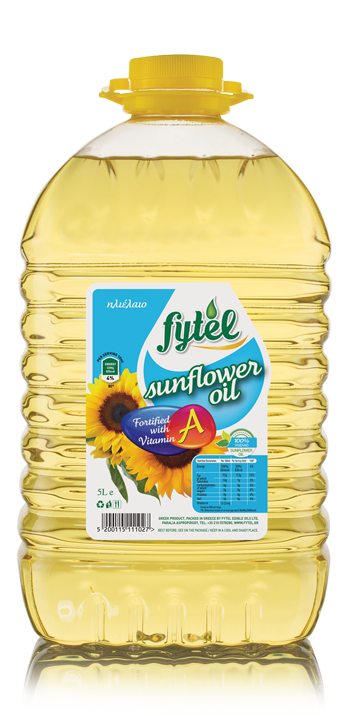 Fytel sunflower oil fortified with vitamin A (1,5 – 3,0mg) is the only cooking oil from Greece that contains Vitamin A & E and is mandatory against Vitamin A deficiency, as oil preserves Vitamins quite stable at cooking temperature.
Health Benefits of sunflower oil
Improves skin health and promotes cell regeneration
Helps to prevent cancer such as colon cancer
Boosts energy levels in body
Prevent heart diseases
Strengthens immune system
Reduces severity of arthritis and asthma
Protecs skin against damage caused by sun and aging
Vitamin A Benefits 
Protects eye care
Provides immune support
Fights inflammation
Supports skin health and cell growth
Helps prevent cancer
Needed during pregnancy
For the preparation of sauces & dressings.
In confectionery for sweets & cakes.
For frying
For all culinary usage
Store in a cool and shady place, away from direct sunlight .